ANN STREET GALLERY
Kaleidoscope of Perspectives


Delainey Barclay, Sydney Cash, Linda Cordell, Joy Dilworth, E.J. Herczyk, Ingrid Ludt, Suzan Shutan and Jayoung Yoon



Exhibition Dates
January 28, 2017-March 25, 2017

Opening Reception
January 28, 2017
6:30-9:00PM
---
SALEM ART WORKS
Images Extracted from Nature
Ingrid Ludt and Angus McCullough
Exhibition Dates:
Cary House Gallery
June 20, 2015-July 18, 2015
Artist Reception:
July 11, 2015
5:30PM-8:00PM
---
---
KINGSTON MUSEUM OF CONTEMPORARY ART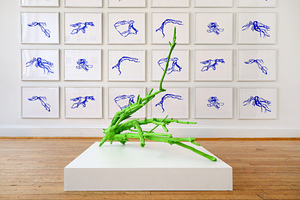 Exhibition opens May 2, 2015.
---
ABSTRACT FLOW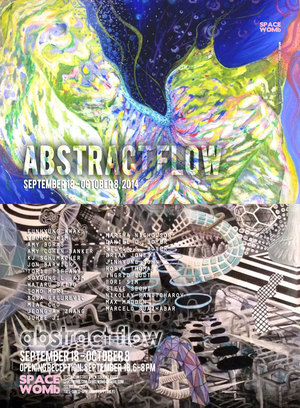 I will be exhibiting a new series of drawings at Spacewomb Gallery, LES.
---
EXPANDING MODE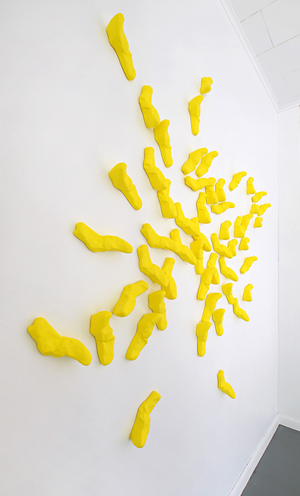 Concepto Hudson-July 19, 2014-August 17, 2014
---
ROOT SOURCE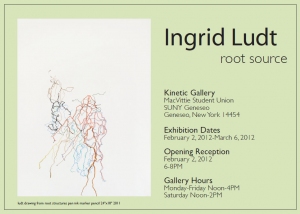 KINETIC GALLERY

SUNY Geneseo


MacVittie Student Center

Geneseo, NY 14454




EXHIBITION DATES

February 2, 2012-March 6, 2012




OPENING RECEPTION

February 2, 2012  6-8PM




GALLERY HOURS

Monday-Friday 12-4PM

Saturday 12-2PM



---
---
MADE IN NY 2011
SCHWEINFURTH ART CENTER
205 Genesee Street
Auburn, NY 13201

EXHIBITION DATES:
March 26-May 29, 2011

OPENING RECEPTION:
March 27, 2011 3-5PM
---
FOREST BECOMES OCEAN
LEMOYNE COLLEGE
1419 Salt Spring Road
Syracuse, NY 13214

EXHIBITION DATES:
February 25-March 25, 2011

OPENING RECEPTION:
March 4, 2011 4-6PM
---
PHENOMENA
HUDSON OPERA HOUSE
327 Warren Street
Hudson, NY 12534

EXHIBITING ARTISTS:
Ingrid Ludt, Claudia McNulty, Guy Beining
and Thomas Huber

OPENING RECEPTION:
Saturday, October 2, 2010
6PM-8PM

---
EXHIBITION CATALOG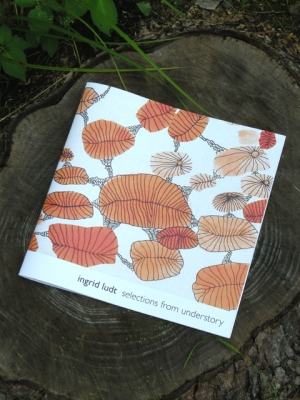 INGRID LUDT SELECTIONS FROM UNDERSTORY
Collection of drawings available now.
---
COMMON THREAD
A.M. RICHARD FINE ART
328 Berry Street, 3rd Floor
Brooklyn, NY 11211
917.570.1476

EXHIBITION DATES:
March 13-April 5, 2009

OPENING RECEPTION:
March 13, 2009 6-9PM

PRESS RELEASE:
For her first show at A.M. Richard gallery, Ms. Ludt presents a series of drawings entitled Understory-a reference to the narrative concealed within each work. Ms. Ludt began this evolving series of drawings in 2006. In continuity with her chosen vocabulary of line and forms, Ms. Ludt is inspired by organic shapes manifested in the ocean. The drawings, akin to pages illustrating a diary, mirror the artist's subconscious. Ms. Ludt employs a collage approach to works on paper. Ink, pencil, fabric, paper scraps and thread stitching inform her daily source of materials.

An illustrated catalog, Selections from Understory is available at the gallery.